The Disability Desk at MJCS in collaboration with Vanuatu Society for persons with Disability had together facilitated a 3 days workshops with the 11 area councils of Shefa Province. The workshop was held at the Matnapuka conference room at Shefa province office.
There were 11 area secretaries a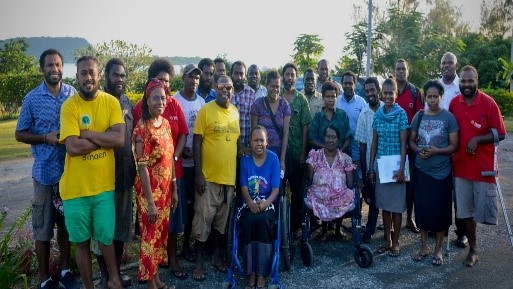 nd in cluding People with disability at this work shop. The purpose of the 3 day's workshop is to:
• Area secretaries to explore ways to collaborate in conducting a CBR outreach program to communities of rural Efate
• Expansion of Community base Rehabilitation work to Efate Urban and offshore Islands.
• Strengthening the working relationship with Shefa province in Disability Inclusion
The 3 days' workshop also involves a panel discussion were 6 persons with disability had share the challenges the faced in a community. A panel had raised accessibility as a challenge for wheelchair users getting into buildings and accessing transport.
The Disability Desk had also put on a presentation in regards to the National Disability Inclusive development Policy 8 priority areas and also how it aligns with the NSDP. The last day of the workshop had the involvement of the area secretaries in a planning stage where they had also present on the few area council profiling.