Australian-funded Stretem Rod Blong Jastis mo Sefti program (SRBJS) – the Vanuatu Australia Policing and Justice Program - delivers a Building Community Partnerships course to support the skills development of staff from the Police, Justice and Community Services sector. The course is focused on effective community engagement intended to achieve results through community partnerships which is so important in the context of an under-resourced Government. The second input of this program which commenced in February 2018 has representatives from seven agencies from the policing, justice and community services sector.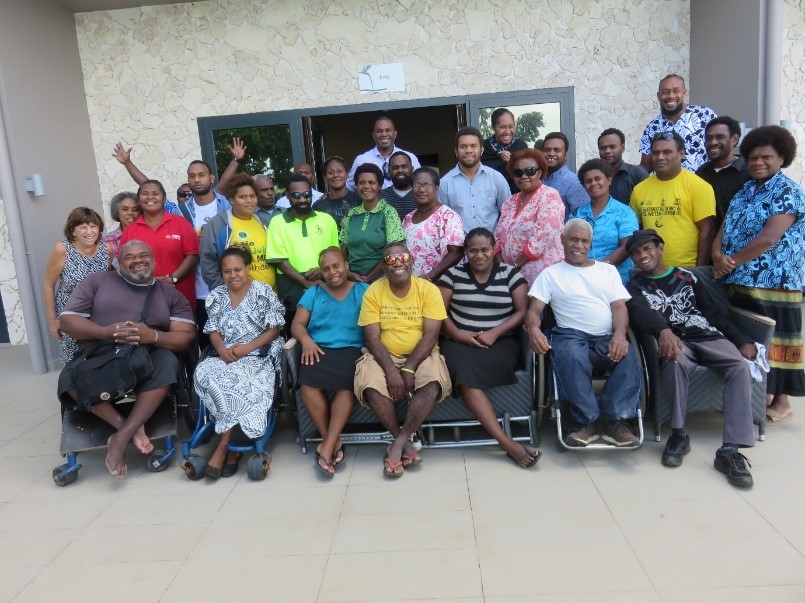 The recent second block of training resulted in a name change for the course to Building Inclusive Community Partnerships, which more accurately reflects the program's approach. The name change recognised that in order for community partnerships to be effective they must be inclusive. The course is designed to reflect and build awareness of gender equality, child protection, disability and social inclusion as highlighted in Justice and Community Services Sector Strategy 2018 – 2021.
The presentation by the Vanuatu Society for People with Disability and the Vanuatu Disability Promotion and Advocacy Association with over 12 panel members, was one of the highlights of the week. The Disability Desk Officer, Knox Morris, from the Ministry of Justice and Community Services was also present. The workshop was beautifully facilitated by Judith Iakavai (VSPD Program coordinator) who ensured participants heard the stories of people with varied and complex disability. The stories told by the panel members provided enormous insight not only to the multiple barriers faced by people with disabilities but were also a reflection of courage and hope. The hands-on activities of experiencing the various mobility devices gave the participants an even greater appreciation of the multiple barriers that people with disability face. This was followed by discussion about strategies to be used to ensure people with disabilities were included in community decision making.
Building Inclusive Community Partnerships Training has a strong emphasis on applied learning, with all participants undertaking a workplace project. As a consequence of this workshop the projects have been modified to have a stronger focus on people with disabilities and inclusion.