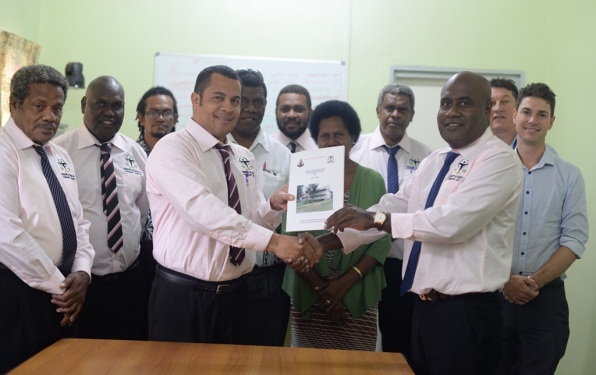 The Ministry of Justice & Community Services MJCS launched its Policing, Justice and Community Services Sector Infrastructure Priorities Needs last month. The minister thanked the ministry and corporate unit for the efforts put together by staffs to have a plan consisting of infrastructure priority needs of all agencies under the ministry to focus on improving services and address the government's priority in improving service delivery. Infrastructure needs is a sector strategy for the Ministry of Justice.
Implementation of the plan extends over a period of 5 years and encompasses Pam recovery works, maintenance work, upgrade to existing buildings and new office and facilities urgently needed by the sector, such as court houses and correctional centers. The plan laid some strategic guidelines for agencies to follow and implement their respective infrastructure needs. The Ministry has an infrastructure officer who will support each agency in the design process, tendering process and construction supervision works.

The Acting Director General for the Ministry thanked all the agencies who have support the process by providing information for the plan, to the project partners STRETEM ROD BLONG JASTIC MO SEFTI for their input and guidance and to the corporate staff of the Ministry for producing the plan.