Vanuatu became a signatory to the UN Convention on the Rights of the Child (CRC) in September 1990 and ratified the CRC without reservation in December 1992 and came into force on May 1993. It also ratified the two CRC Optional Protocols on child prostitution and pornography and armed conflict on May and September 2007.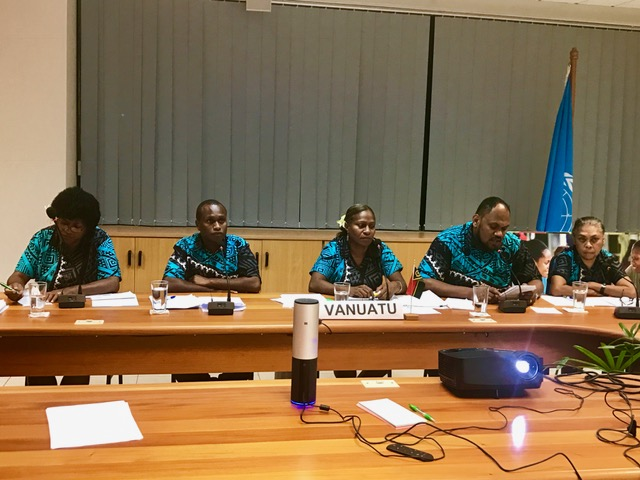 ted in June 2015 including the first two (2) Optional Protocol Reports.
Vanuatu submitted its first periodic report in 1997 (initial submission dateline was in 1995). The second, third and fourth periodic report was submit
On September 21st and 22nd Vanuatu presented its second, third and fourth combined report on the CRC including its two Optional Protocol reports by videoconference at the UNICEF Office in Suva, Fiji Members of the Vanuatu delegation included Mrs Jenny
Tevi, head of the delegation, She is acting Head of the Treaties and Conventions Division, Ministry of Foreign Affairs of Vanuatu; Mr Setariki Waqanitoga, Policy Adviser and Mrs Elizabeth Emil-Mael, Child Desk Coordinator, both from the Ministry of Justice and Community Services (MOJCS), Mrs Apisai Tokon, National Reproductive Health/Family Planning Coordinator, Ministry of Health and Mr. Roy Ben, Child Protection & Gender Focal Point, Ministry of Education and Trainin
g (MOET).
In preparation for this constructive dialogue with the CRC Committee in Geneva, the team left Vanuatu for Fiji on Sunday 17th September. On Monday 18th and Tuesday 19th Sept. the team worked tirelessly in going through the Vanuatu combined report including the responses to the questions raised by the UNCRC Committee, assigning themselves sections of the report on which they would be reporting.
On Wednesday 20th was a mock session conducted by the UNICEF and the RRRT team in Suva. This session really helped the team with their dialogue on Thursday and Friday evening from 8 – 11:30pm. This was the session that was most important as it helped the team for prepare well for the actual dialogue. The dialogue went really well as the team confidently responded to all the questions raised by the UNCRC Committee in Geneva. The questions and discussions were based on nine (9) thematic areas or clusters:
(i) General Measures of the CRC Implementation
(ii) Definition of the Child ( in relation to the Laws in Vanuatu)
(iii) General Principles of the CRC
(iv) Civil Rights and Freedom
(v) Violence Against Children
(vi) Family Environment and Alternative Care
(vii) Basic Health and Welfare
(viii) Education, Leisure and Cultural Activities
(ix) Special Protection Measures.
In her introduction or opening address, Mrs. Jenny Tevi said that 44% of the total population of Vanuatu of 204,304 was children. This large child population was the driving force behind reforms and measures taken by the Government to ensure that an enabling environment was needed for holistic development with support from partners NGOs, Faith Based Organizations as well as Development partners. Many positive steps had been taken but more collaborative efforts were needed to continue to promote the rights of all children. She also informed the Committee of the legislative steps were taken to harmonize the national laws with the Convention on the Rights of the Child, and these includes the adoption of the Family Protection Law in 2008, National Child Protection Policy in 2016, National Inclusive Education Policy 2010-2020, Child Safeguarding Policy 2017-2020, an
d the adoption of the strategy for reproductive, neo-natal, child and adolescent health for the period 2017-2020. The adoption bill, aligned to the Hague Convention on Inter-Country Adoption, was being discussed and a disa
bility policy in line with the Convention on the Rights of Persons with Disabilities is currently under development. The challenges that Vanuatu continue to face is the financial and human resources and provisions of adequate education and health services for all children also remain limited due to the remoteness of islands scattered all over the archipelago, concluded Ms. Tevi. Details of the dialogue can be access through this link: http://www.ohchr.org/EN/Newsevents/Page/DisplayNews.aspx?NewsID=22136&LangID=E
In her closing remarks, Mrs. Jenny Tevi thanked the Committee on behalf of the Vanuatu Government and recognized the many gaps and challenges in the area of the protection of children's rights. This dialogue was a chance to obtain a fair assessment of the progress achieved and Vanuatu welcomed the Committee's concluding observations and recommendations.

Mr. CLARENCE NELSON, Committee Expert and Rapporteur for Vanuatu, expressed the appreciation for the dialogue and the regret that the delegation did not include the Minister, hoping that the Committee's views would be conveyed to the decision-makers. The dialogue was an opportunity to take stock of the state of play regarding child policy in Vanuatu, he said, adding that the Committee would address all pertinent issues in its concluding observations.

And on behalf of the Committee he also conveyed their Best Regards to the Children of Vanuatu