A reconciliation ceremony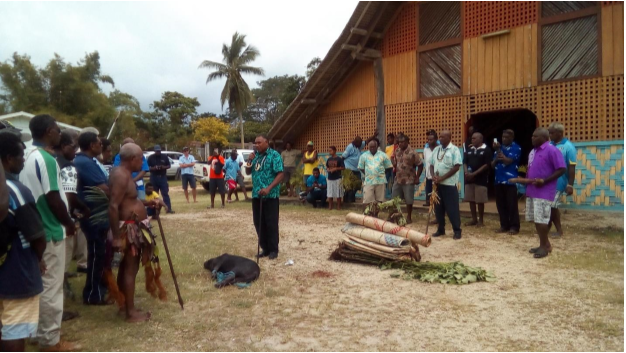 staged at the Chief's nakamal in Luganville on Thursday 19 April restored relationships between Ambae communities and Sanma, in particular the island of Santo. Comments on social media following the evacuation to and repatriation from Santo back to Ambae in last year's volcanic eruption have incensed communities from Santo thus calling for a formal apology from Ambae leaders.
Malvatumauri President, Chief Tirsupe Senimao echoed the sentiments of the President of Sanma Council of Chiefs, Chief Levus Tamata and Sanma Provincial Council President Mr. Thomas Vora, calling for 'Respect' from guests in Sanma Province and elsewhere around the country. Speakers representing Ambae communities including Chief Andrew Mera, Honorable MP Alickson Vira, Chief John Tarilama and Chief Alicta Vuti acknowledged the immense support continuously given by Sanma Province to the people of Ambae and begged for forgiveness from Sanma leaders.
Speaking on behalf of the Sanma Council of Chiefs, Chief Levus Tamata acknowledged and expressed gratitude for the reconciliation process which he stressed would restore mutual respect and pave the way for more dialogue on the issue of land for Ambae evacuees. Honourable Antoine Pikioune, Minister of Finance who also participated in the reconciliation process reiterated the Government of Vanuatu's support to finding adequate and appropriate space for Ambae evacuees. Other dignitaries who took part in this reconciliation process included CEO of Malvatumauri, Mr Tom Jean Pierre, Ms Cherol Ala, Director General of Ministry of Internal Affairs, Deputy Director of DLA, Mr Onen Gavika, Chiefs of Sanma council of Chiefs and Luganville town Council of Chiefs, church leaders, Ambae Councillor, Mr James Tarito and leaders of Ambae Disaster Committees in both Santo and Port Vila.