12 April 2018 was a day of immense celebration for 17 law and justice sector leaders and mangers representing Ministry of Justice and Community Services, Department of Corrections, Customary Land Management Office, Vanuatu Cultu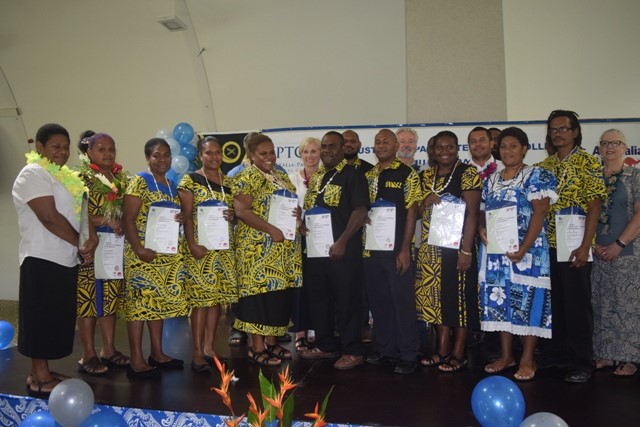 ral Centre, Office of the Ombudsman, Public Solicitor's Office, State Law Office, Vanuatu Law Reform Commission and the Judiciary. These officers were formally awarded ea Certificate IV in Leadership and Management delivered through Australia-Pacific Technical College (APTC).
Acting Director General of Vanuatu's Ministry of Justice and Community Services, Mr Pacco Siri, gave the keynote speech, congratulating the graduands on their achievements and hard work in attaining an Australian qualification. A/g DG made special mention of the 52 women graduates, as well as the 17 graduating managers from the justice and community services sector.

The APTC Certificate IV forms one part of the Management Development Program (MDP). The MDP, designed and funded by Stretem Rod Blong Jastis mo Sefti (SRBJS) in partnership with the MJCS, aims to engage managers in development that strengthens their practical capabilities so that they are better equipped to confidently and skillfully undertake management responsibilities, and contribute to improved agency performance. Learning will continue throughout 2018 with technical intensive workshops, led by ni-Vanuatu experts, and be complemented by ongoing Action Learning group meetings.
The graduation was also a landmark occasion for the disability sector. The Ministry and SRBJS celebrated the achievements of Mr Marksuel Nausien, first Vanuatu graduate in Certificate IV in Disability.