A small ceremony marked a double celebration for the Department of Correctional Services.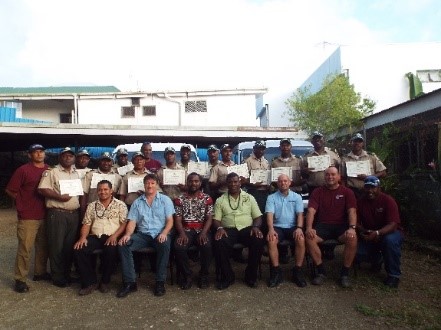 Eleven officers who were recently appointed into permanent positions completed their Core Skills training and a graduation ceremony was held to mark their achievement. The eleven officers will be deployed at Port Vila Correctional Centres.
'I am very proud to see the growth of my Department's training unit,' said Director, Johnny Marango. 'We now deliver our own training using trainers drawn from our own ranks. This is a more cost-effective way of delivering training, and the training is more targeted. I congratulate not only the graduates but also our trainers – Manager Richard Bani, Principal Corrections Officers Allistair Kelly and Jesse Obed, Senior Corrections officer George Edson and Corrections Officer Seule Siri - because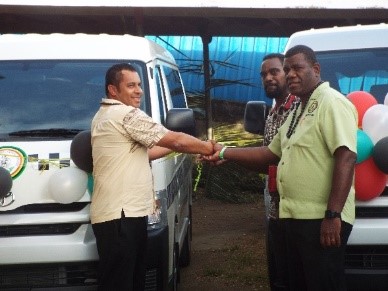 the training they delivered was rated 'Very Good' by every one of the trainees.'
The Ceremony was also an opportunity for handing over of two new buses to the Department.

'My Department is still young and has been very fortunate to have had assistance from the New Zealand Ministry of Foreign Affairs for many years. New Zealand's recent assistance to purchase two new buses is greatly appreciated as it will significantly improve operations within our Correctional Centres,' said Mr Marango.

The buses will be deployed in Santo and Port Vila Correctional Centres.

'The role of Correctional Services is to keep the community safe and to reduce crime by rehabilitating offenders. Since the Department was established in 2006 we have made great progress in reducing escapes and reducing re-offending. I am pleased to celebrate these two milestones as we continue with our mission for Vanuatu to be the safest country in the Pacific, and a safe place to invest and do business,' concluded Mr. Marango.