Two of the Correctional Services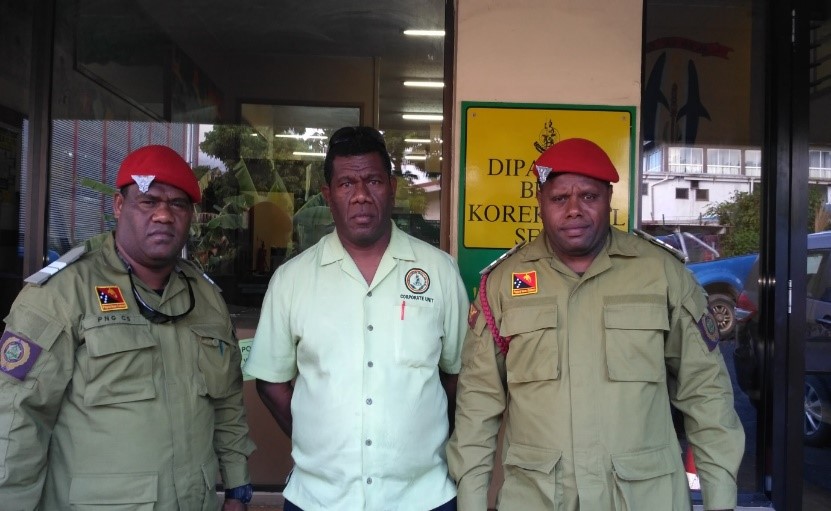 Officers currently studying in PNG Corrections Services are here for 2 weeks holiday. Acting Probation Correction Officer (A/PCO), John Jack George and Senior Correction Officer (SCO) Daniel Nako were nominated for this training for a 1 year period. They have completed Phase 1 of Commission Officer Eligibility Training Program at Papua New Guinea Correctional Services Staff Training College.
The training program is in twofold: Phase1: (off – the – Job) commenced Monday 15th January and ended Friday 27th of April 2018 and covers 12 competences: Use of information to make critical decision, manage effective workplace relationship, manage projects, produce and reviews standard intelligence products, manage humans resource, manage a work unit, organise and chair meetings, analyse information, identify risk and apply risk management, manage performance, promote diversity and conduct evaluation.
With the final assessment of phase 1, both of them have been successfully selected to undertake phase 2, beginning 16th May – 16th November 2018. Upon their return to PNG, both officers will be posted to do on-the-job training at Bomana Major Correctional Institution (PNG). During the maximum period of eight (8) months they are required to provide evidence of work on Units of Competences they undertook during Phase 1 of their training program.
Presenting their final report of Phase 1 to the Director of the Correctional Services on the 2th May 2018, both officers were very happy about their training, they said that they enjoyed their training and Papua New Guinea Correction Services (PNGS) looks after them very well. The Director of the Correctional Services, in receiving their report acknowledged both officers and congratulated them of their achievements. This is another mile stone for DBKS since this is a first training for Vanuatu Correctional Staff to attend such training in PNG. Funding's for this program was fully sponsored by the PNGCS inclusive of tuition fee, airfare accommodation and small stipends. Initially the Director of Correction made this arrangement with his PNG counterpart during his last visit there years ago. Both Officers will return to PNGCS on 15th May 2018 to undertake Phase2 that will run till 16th November 2018.