Twelve (12) agencies from the Policing, Justice and Community Services Sector got together for a first ever sector-wide Monitoring and Evaluation (M&E) training from the 30th to the 31st May 2018, at the Ramada Resort. A total of 17 participants participated in the 2 days M&E workshop including a Head of an Agency and some very senior officers representing their agencies. A word of acknowledgment and thank you goes to all the Heads of Agencies who nominated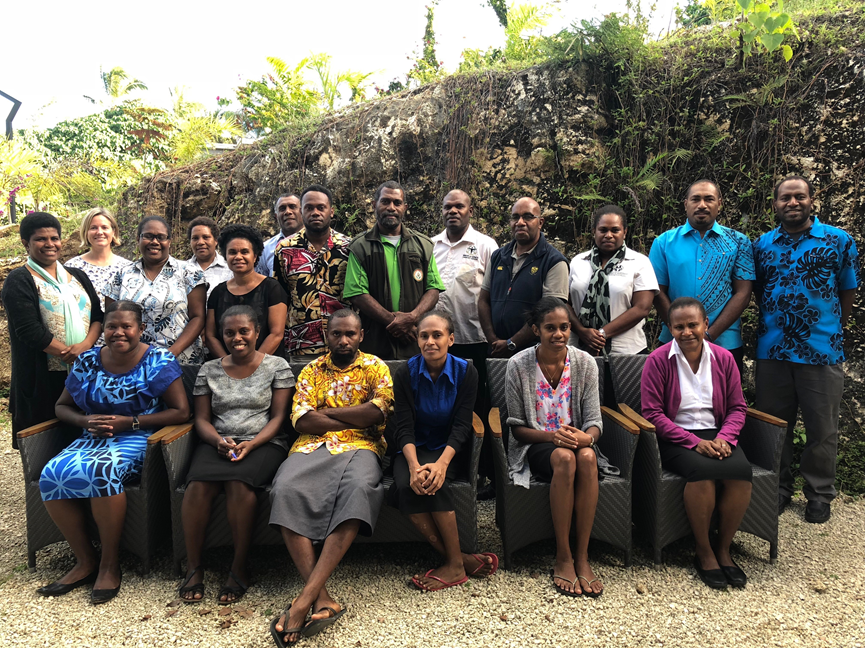 officers from their agencies to be part of this training.
Sector Capacity Development Coordinator, Mrs. Louise Nasak, at the opening of the 2 day workshop encouraged the participants to make M&E a part of their professional culture, emphasising that everyone is responsible for the quality output of their work and that of their organisations, and that it is not the responsibility of just the M&E Officer or of one or two people in the organisation.
Topics covered in Day 1 of the workshop included M&E Fundamentals, asking critical questions such as Why, When, What, How, Where and Who, M&E Plans, SMART Indicators and Data & Data Collection Methods. On Day 2 participants looked at Monitoring a Business Plan, starting with Business Planning, Monitoring and Reporting.
The second series continuing from this sector M&E Training is planned for September 2018.
The 2 day M&E session is the first series of a phased M&E Training Package consisting of seven (7) modules that look at fundamental M&E needs across the sector. The sessions were delivered using a combination of theory and practical sessions, encouraging maximum participation and rich discussions. The modules were collaboratively developed by the MJCS and the Stretem Rod Blong Jastis mo Sefti (SRBJS) Program.
On behalf of the MJCS and the 12 participating agencies, 'bigfala tok tankio' to the Australian Government's Department of Foreign Affairs and Trade, through the SRBJS Program, for the budgetary and technical support that enabled the MJCS to organise and deliver the training. We look forward to continuing to work in partnership with the SRBJS Program to continue to strengthen the quality of our service delivery across the sector.