On Friday 27 April, Vanuatu's justice community gathered at the Office of the Public Prosecutor to open the Chief Justice Frederick G. Cooke Law Library and formally launch the Prosecutors' Code of Ethics and Prosecution Policy.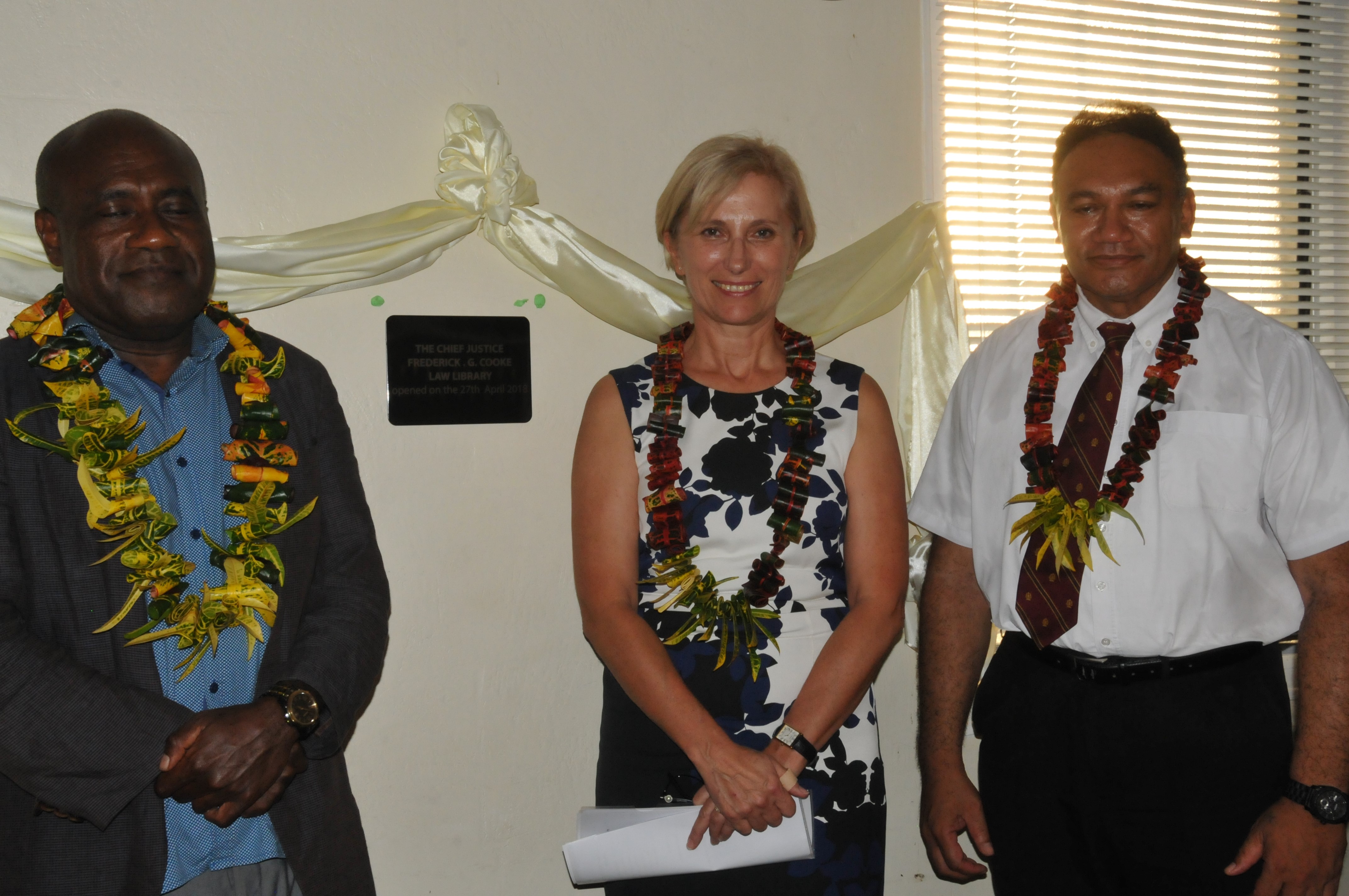 The event was streamed live to the Public Prosecutions office in Canberra so that two important guests, the Director of Public Prosecutions, Jon White SC, and Supreme Court Justice, Michael Elkaim, could participate in the proceedings via webcam. The books for the Cooke Law library had been gifted to the Ministry of Justice and Community Services by the Director of Public Prosecutions and the Supreme Court of the Australian Capital Territory and bought over to Vanuatu with the assistance of the Australian-funded Vanuatu Australia Policing and Justice Support program. Over 2,000 books were distributed between the Office of the Public Prosecutor, Public Solicitor's Office and the State Law Office.
The law library was opened by the Australian High Commissioner, Jenny Da Rin, a law graduate herself. The High Commissioner said that this 'repository of knowledge' would build long term capacity and would benefit prosecutors and Ni-Vanuatu lawyers for many years to come.
The library is named after Chief Justice Frederick. G. Cooke; the first Chief Justice of the Republic of Vanuatu. Cooke was the Chief Justice from 1980 – 1990.
Following the opening of the library, Chief Justice Vincent Lunabek launched the Code of Ethics. The Chief Justice in his speech emphasised the importance of ethics in the legal profession and the special role that prosecutors hold in promoting ethical behaviour.
The Minister for Justice and Community Services, Hon. Ronald Warsal, launched the Prosecution Policy remarking that a policy will make decisions transparent and accountable. In her closing remarks, master of ceremony, Marie Taiki remarked that she and her fellow prosecutors will have no excuses now with the guidance that these publications provided.